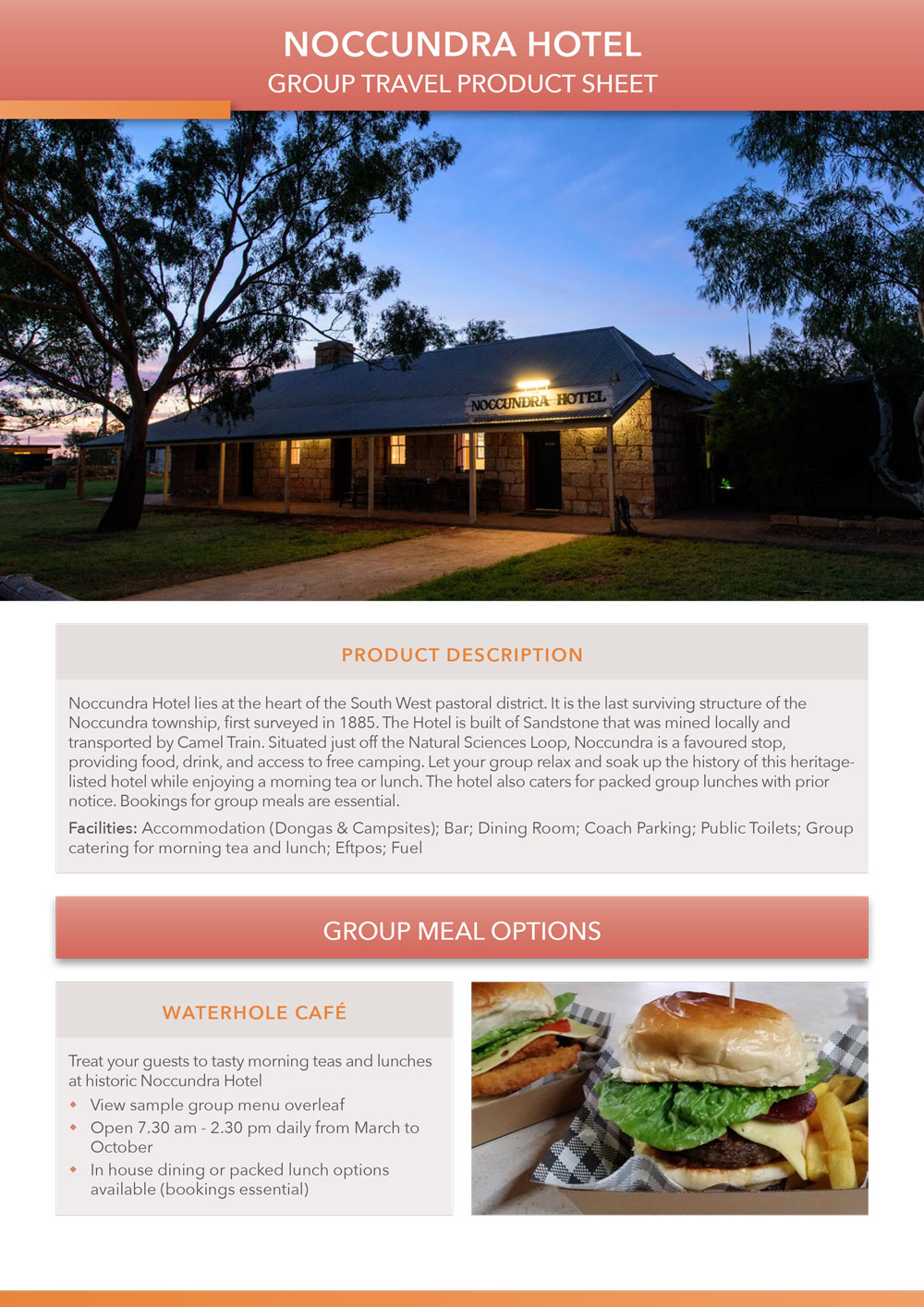 Noccundra Hotel
The Noccundra Hotel is the only original surviving building in the historic township of Noccundra. It was built of locally quarried sandstone and transported to Noccundra by camel train. Today it serves as a meeting place for locals and stockmen and travellers alike. The Hotel is a popular rest stop or overnight stay for visitors driving to the "Dig Tree", Innamincka, Cameron Corner, Thargomindah, and all points in between.
Groups are very welcome in Thargomindah. Make your first stop the Thargomindah Visitor Information Centre, located in the main street of town. There's plenty of coach parking out front, free wifi and a handy onsite coffee shop. The centre offers a number of group packages which include a hop on guide service.
Two Days in Thargomindah
DAY ONE:
A local guide will board your coach at the Thargomindah Visitor Information Centre for a town tour filled with historic and interesting commentary. Relive moments of yesteryear at the Old Jail and Old Thargomindah Hospital courtesy of life-size holographics and interactive experiences. Enjoy lunch at one of the local establishments (ask the Visitor Information Team for details). Discover the story behind  Australia's first town to produce hydro-electric power for street lighting at the Artesian Hydro Power Plant. Join your guide for a tour and demonstration of the plant then step out on the viewing deck for a spectacular outback sunset (with nibbles & drinks). Continue the outdoor experience with a Slow Cook and Damper Dinner under the stars in the grounds of the Explorers Caravan Park.
DAY TWO:
Enjoy a morning stroll along the scenic Bulloo River Walk to Pelican Point picnic area for an early morning smoko (own arrangements) before travelling west for 142kms along the Adventure Way to the Noccundra Hotel. Look closely at the sandstone walls of this 1882 construction. The sandstone was quarried in New South Wales and transported by Camel Train to its present location. You have to ponder the logistics of this! Enjoy lunch in the hotel dining room (bookings essential) before continuing your drive to the Burke and Wills Dig Tree.  One of Australia's National icons, the site is an enduring reminder of the pioneering spirit of the Outback.